The most pro-worker president in our lifetimes delivered the most pro-worker State of the Union address in recent memory.
Here are just a few highlights from President Joe Biden's Tuesday night speech:
1. On the remarkable job growth of the last two years: 12 million new jobs are more than any previous president has created in four years in office. "Jobs are coming back, pride is coming back, because choices we made in the last several years," Biden said.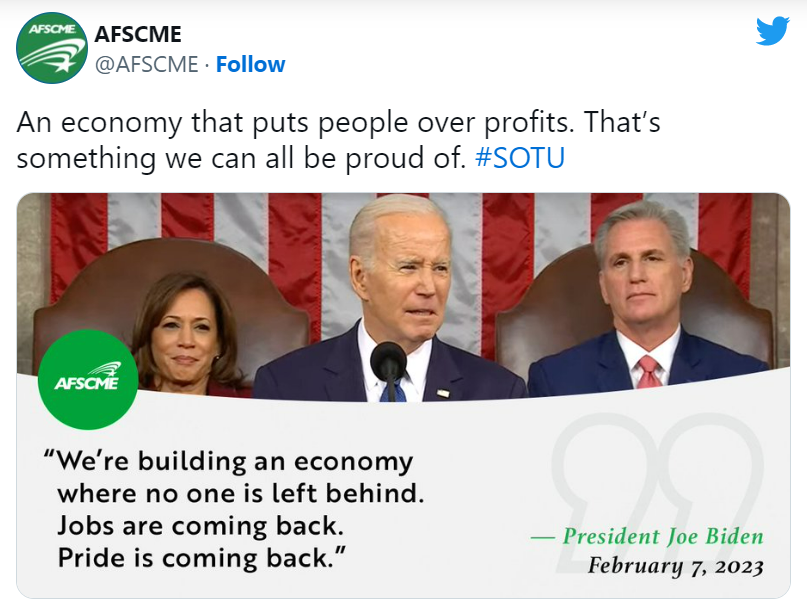 2. "I'm so sick and tired of companies breaking the law by preventing workers from organizing. Pass the PRO Act because … workers have a right to form a union. And let's guarantee all workers have a living wage."
3. Infrastructure: "To maintain the strongest economy in the world, we need the best infrastructure in the world." With passage of the bipartisan Infrastructure Investment and Jobs Act, Biden has delivered on the promise to improve our country's failing roads, bridges, transit systems, water facilities and other infrastructure.
For AFSCME members like Chris McDonald, a wastewater collections inspector for the City of Cincinnati, or Kevin Gross, a maintenance technician in Maryland, that means a surge of funding so they can do their jobs.
4. Fighting skyrocketing prescription drug prices. Biden's Inflation Reduction Act capped insulin at $35 a month for Medicare recipients. But he's not done. "Let's finish the job and cap the cost of insulin for everybody at $35."
5. On billionaires and tax fairness: "No billionaire should be paying a lower tax rate than a school teacher or firefighter." Biden's Billionaire Minimum Tax would help ensure the uber-rich pay their fair share.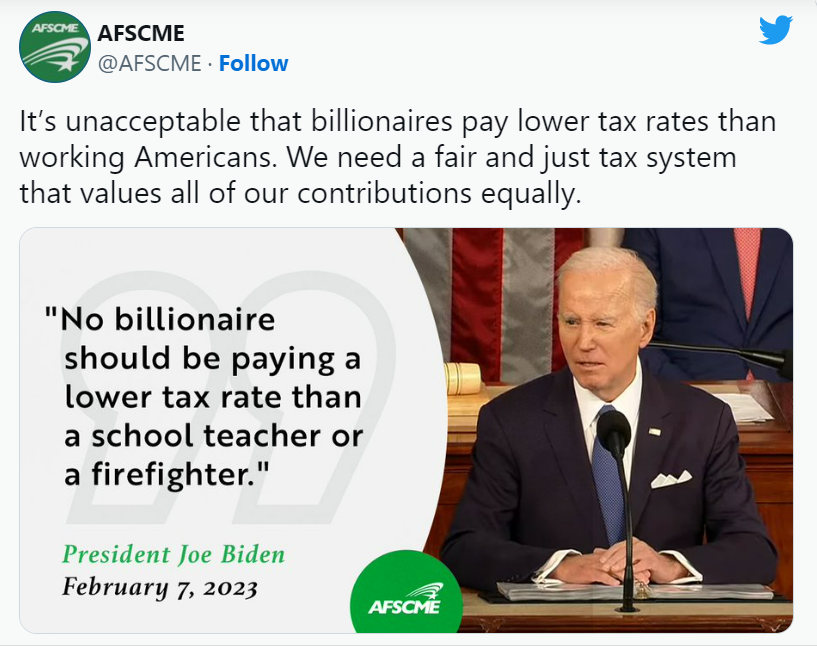 6. Standing up for seniors: "We will not cut Social Security. We will not cut Medicare. Those benefits belong to the American people."
7. Voting rights: "We must protect the right to vote not suppress that fundamental right."
8. Biden breaks it down: "When the middle class does well, the poor have a ladder up and the wealthy still do very well. We all do well."
9. Biden recognizes the crucial role of home care workers and wants to support them and the people they serve: "Pass my plan so we get seniors and people with disabilities the home care and services they need and support the workers who are doing God's work."
10. A focus on families: "Let's make sure working parents can afford to raise a family with sick days, paid family medical leave, affordable child care. That's going to enable millions more people to go and stay at work."
In a statement, AFSCME President Lee Saunders summed it up: "President Biden is living up to his pledge to be 'the most pro-union president in history.'"