"Across America, support for the Labor Movement is at a record high and more people are joining unions every day. From the hotel housekeeper to the crane operator, from the fire fighter to the teacher, from the postal worker to the electrician, and from the nurse to the librarian, working people are uniting to fight for a voice on the job.   Only by joining together collectively do we have power in a system that's rigged in favor of the wealthy few.  Only by joining together in a union can we negotiate for a fair and just society that benefits all working people, and for a contract that values our hard work and allows us to support our families. By joining AFSCME you will become part of a movement that helps you get a contract that you deserve, and advocates for economic justice in the workplace, in our communities, our state and in our nation."
-Steve Tolman President Massachusetts AFL-CIO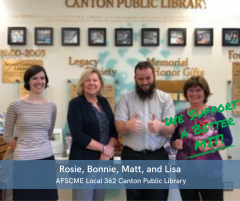 "Being part of a union means always having someone who's "got your back". The business agents are knowledgeable and always available to help negotiate a contract and to defend it, and you, when necessary. If you need legal representation due to a job action, they have a team of attorneys at-the-ready to step in and defend.
STRONGER TOGETHER — AFSCME STRONG!!!"
-Lisa Quinn AFSCME Local 362 Vice President Canton Public Library
"Workers on campuses throughout Greater Boston are fighting for a voice at work and dignity and respect on the job. By supporting AFSCME, MIT workers are on their way to a better life."
-Rich Rogers GBLC Executive Secretary Treasurer 
"AFSCME, Council 93, Local 362 has been an invaluable resource for our library employees. They are never, but a phone call away. We always have a seat at the table."
-Lisa Stakutis AFSCME Local 362 Chapter Chair
"Since elementary school, librarians have helped me learn so much about the things that interest me and care so much about helping other people. Of course I support the librarians!" 
-Olivia MIT Student
"The librarians at MIT are so wonderful, they are always willing to help when I'm stressed about psets and classes or when I have no idea how to find resources I need. I don't know where I would be without them!"
-Marina MIT Student
"By joining together in a union we have been able to ensure that we are all treated fairly and equitably. We are professionals and deserve to be treated as such."
- Darryl Clark President AFSCME Local 2477 Library of Congress
 "Our Library of Congress Professional Guild, AFSCME Local 2910, has been working toward the collaborative creation of a progressive workplace since 1976, in an institution that has had continuous union representation since 1917. Our Guild has been in the forefront of improving working conditions and communication at the Library; the list of tangible accomplishments our union has successfully advocated for is extensive: flexible work schedules; credit hours; transit fare subsidy; telework; merit selection plan; health and safety procedures; dispute resolution; family-friendly leave; disability rights; employee leave bank; lactation center. A union provides both a voice and a context for change that will make a difference for your yourself, for your library, and for the patrons and researchers you serve. Get organized and get involved."
 -Library of Congress Guild Executive Board, AFSCME Local 2910