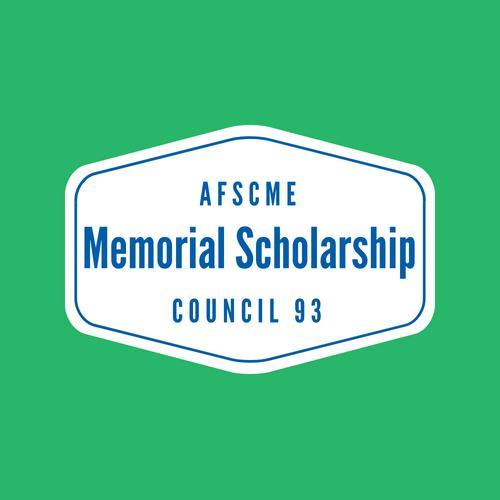 Each year, the AFSCME Council 93 Memorial Scholarship Fund provides five individual one-thousand dollar ($1,000) scholarships to students enrolled in a two-year or four-year accredited college, recognized technical, or trade school. Awarded in memory of all of our departed members, the scholarship is renewed for each year of attendance. Over the past two decades, tens of thousands of dollars in scholarships have been awarded to deserving AFSCME families.
Who is eligible?
Council 93 members and their spouses, children, stepchildren, grandchildren, or legal dependent (Proof of AFSCME Council 93 membership required). Applicants must be accepted or already attending an accredited college or university, community college or recognized technical or trade school at the time of the award. Graduate students are not eligible.
How do I apply?

Council 93 Memorial Scholarship Application 2022
Applicants must complete an application and submit a 500-750 word essay on "Why Unions Have Been Important to my Family." The essay should be typed and double spaced. The Scholarship Committee suggests that students contact their parents, grandparents, aunts, uncles, neighbors or friends to learn what labor union membership and participation may have meant to them. Union members are encouraged to discuss the essay with their children, grandchildren, and others, to relate their own experiences as possible topics for the essays.

The Scholarship Committee will determine the award based upon the essay and completed application form. Upon receipt of each scholarship application, the applicant's name and local number will be separately indexed. Once completed, this information will then be obscured to assure complete impartiality by the Scholarship Committee. The decision of the Committee is final.
Timeline
The applications and essays are due by July 1st to be considered for an award. 
Essay
Proof of Acceptance or Attendance at an accredited college or university, community college or recognized technical or trade school
Proof of AFSCME Council 93 Membership or Affiliation
Please send application and all documentation to [email protected]
The winners will be notified sometime in mid-Summer and the awards will be presented at the AFSCME Council 93 Convention in the Fall.